Douluo Dalu (斗罗大陆) is one of the most popular Chinese animation or Donghua in China and is getting a live-action adaptation. Episode 1 and 2 has just has been recently released and is free to watch on the Tencent Video website with English subs. I will be doing a review on these three adaptations!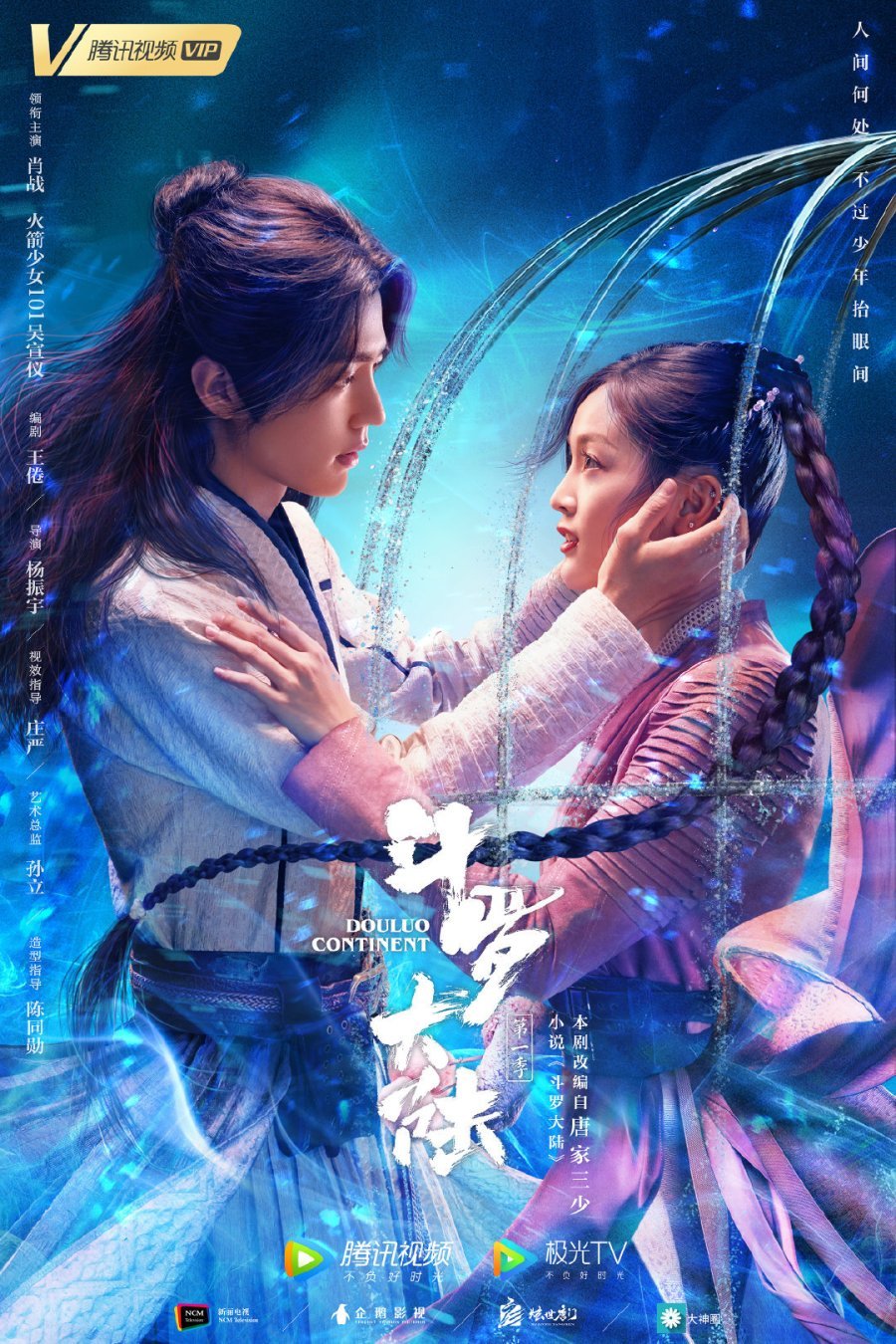 Live Action Drama Summary:

It tells the story of Tang San who overcomes many difficulties to protect his loved ones, bring honor to his sect, help his country and become the strongest and bravest soul master. Having lost his mother, Tang San and his father depended on each other to survive. Because he had to bear heavy burdens since childhood, Tang San grew up meticulous and mature for his age. Tang San awakened his powers when he was six years old and was sent to an academy for training. He becomes a disciple of Yu Xiaogang and looks after the orphaned Xiao Wu as her older brother. To improve their soul power, Yu Xiaogang sends them to the Shrek Academy where together with five other geniuses, they come to form the Shrek Seven Devils. As they gain fame, conflicts arise between the Shrek Seven Devils and students from other academies. The young heroes unintentionally become involved in the fight for imperial power between first prince Xue Qinhe and fourth prince Xue Beng. Meanwhile, Tang San discovers the culprit that murdered his mother and their secret plot to destroy the nations. To prevent them from succeeding, Tang San gathers up allies to fight a difficult war.

Tencent Video
I haven't read the novel so I am just comparing the Live-Action Drama to the Donghua (Chinese Anime) and the Manhua (Manga). From what I have seen so far, the drama does follow some parts of the Donghua and Manhua, but there were quite a few changes made.
First, it seems like Tang San in the drama doesn't remember his past life like in the Donghua and Manhua. Both the Donghua and Manhua start by showing Tang San's past life and how he was part of the Tang Sect that was known for Poisons and Hidden Weapons. He was seen as a traitor for learning inner sect disciple's contents when he was a outer sect disciple. He knew of his crime so he committed suicide and jumped off a peak. This led him to be reincarnated as the Tang San we know of today. However, in the drama, the beginning confused me so much with the dream. Instead of having flashbacks of his past life, we are having flashbacks of what is suppose to happen in the future? As I watch further into episode 1, I realize they might have removed the reincarnation part. That is a somewhat big change in the original plot, so we will see how that plays out.
Another thing is that Tang San in the Donghua and Manhua started his spirit awakening around 6 years old after being reincarnated. In the drama, Tang San is obviously not a little kid, and that could be due to being too much for a child actor to do or because of a new plot they are setting up. I am not too concerned about this change, but the personality change surprised me the most. Nevertheless, that is to be expected now that Tang San doesn't have his past life's memory. Tang San in the Donghua or Manhua is often shown as someone being too mature for his age, a genius, very confident, has a calm demeanor, and can be somewhat of a calculative person. Of course, he is also a caring and thoughtful person. However, in the drama, the first 2 episodes displayed him more of a softie. Seems like they are going for that weak main character that becomes a strong willed main character.
So far I have only noticed that Tang San's personality is different. Tang San's dad, Tang Hao, resemble the way he is portrayed in the Donghua and Manhua. The same goes for Xiao Wu as well. I have only seen Xiao Wu in episode 2 and I think I am loving her character already. The actor seem to have done a good job portraying that energetic, playful, deviant, and cute personality of Xiao Wu.
Another character I think where the personality kind of changed is Yu Xiaogang, who will later become the master of Tang San. I actually like the master's new personality. He is more cool and gives a more playful or youthful aura compared to the Donghua and Manhua. He feels more like Tang San's older brother in drama.
In conclusion, I think the drama itself seem pretty interesting so far. Currently, it does follow along the original plot line in most cases like getting his spirit awakening, leaving the village, going to Nuoding Academy, and how he met Xiao Wu. I definitely do see some bigger changes that is going to happen in the future. As for anyone watching the drama, it's a good idea not to think about the original plot too much and don't try to compare it to the Donghua, Manhua, or even the novel. Try to watch this as if it is something completely new or is like any other new show you watch. I think that is the best way to get the most out of the show and to give it a fair chance.
Images and sources: MangaToon, Tencent Video website (Live-action drama), Tencent Video website (Donghua)