Yume: What Anime shows caught your interest this season?
---
Aiya: There's so many new animes released this season! A couple that caught my eye are Akudama Drive, Munou na Nana, Noblesse, and Jujutsu Kaisen.
---
Yume: After checking out most of the animes this season I think the 4 that stood out to me are I'm Standing on a Million Lives, Yuukoku no Moriarty, Akudama Drive, and Munou na Nana.
---
Aiya: Recently I played a game called Amoung Us, and Munou na Nana reminds me of it. I legit thought Nanao was the MC at first, but the ending of the first episode proves me wrong or I think he is probably dead. I guess that's why the title is called Talentless Nana. Nana is like the imposter in Amoung Us, but she is so good at acting innocent, and misleading others. It's kind of scary how people fall into her traps. I'm not really rooting for her, but hopefully someone figures out her plan and stops her. >.<
---
Yume: I agree! I like how smart Nana is, but seeing her kill those students is just wrong. However, she believes that by killing these students that are currently innocent will protect everyone from their future misdeeds. I am not sure where she is getting these data from that these students are going to be enemies of humanity, but if someone with power is predicting this I feel like the reason they will turn evil is because of what she is doing. Currently, the students shown in ep 1 and 2 are pretty naïve or childish. However, it does look like they also have a strong belief in protecting humanity. So if they are well educated and continue teaching them these beliefs and values it might change the future. It could also be some humans are disliking people with powers so they are trying to kill them all because they are scared. I think either way killing these kids are not the answer. Someone is going to find out what they're doing and there will be a revolt.
---
Aiya: Yes! I'm definitely waiting for that to happen in the show. Moving onto our next show.
[ Did you guys know that Akudama Drive is by the same creator as Danganronpa? I like the idea of this story, everyone is kind of bad. I'm interested in Cutthroat, who was rescued from his execution trial. ]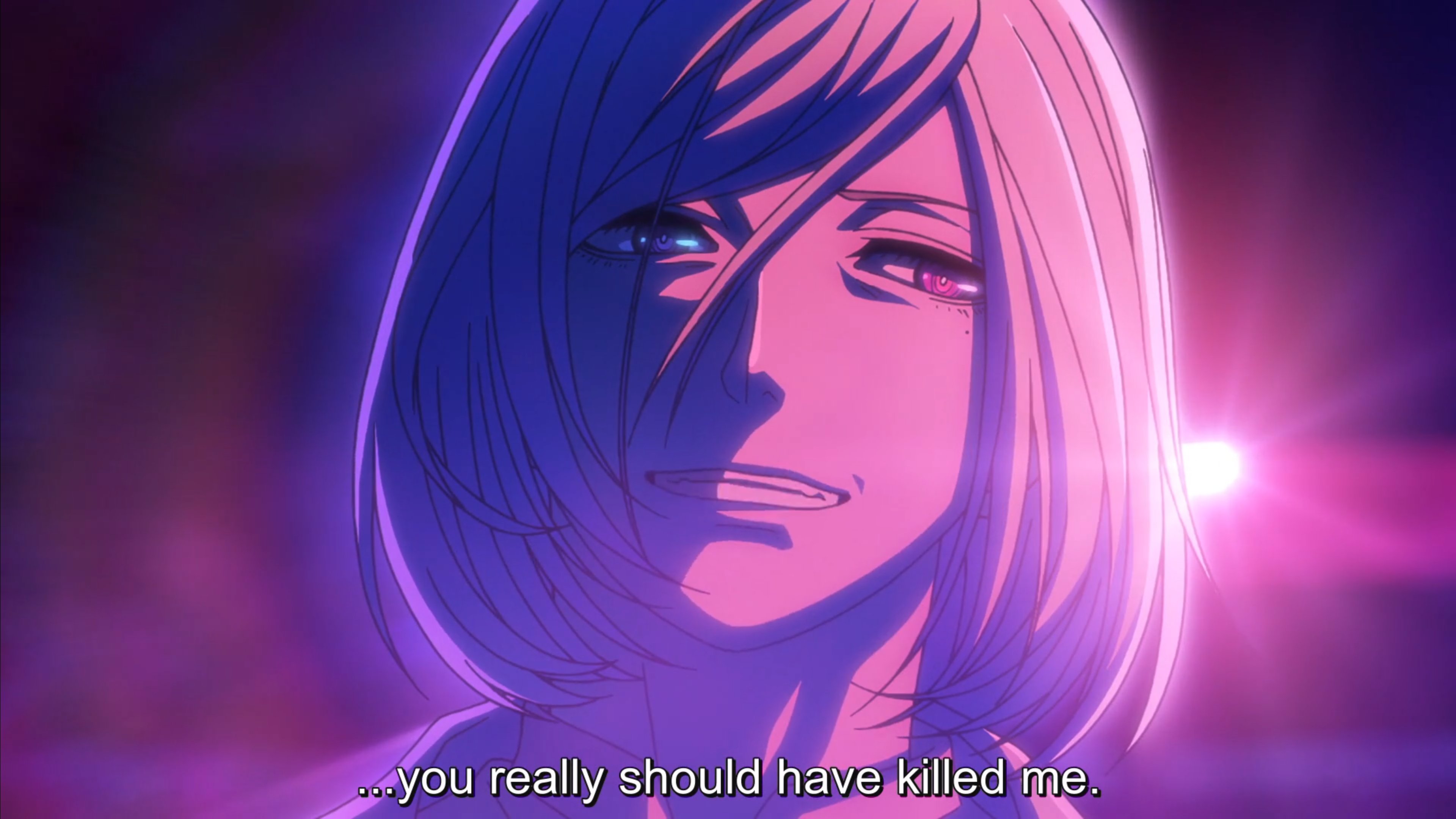 ---
Yume: Akudama Drive's plot is definitely very interesting. It feels fresh! All the main characters except the ordinary girl are criminals and are not our usual hero like characters. I am excited to see where this takes us after ep 1. The same goes for Yuukoku no Moriarty. Our main characters, Moriarty and his team, are like the antagonist of the show where they face the heroes or the good characters, which are Sherlock Holmes and his friends. Also, I'm Standing on a Million Lives has a very interesting main character. Ep 1 he is shown to be kind of selfish and is willing to sacrifice his friends if needed.
---
Aiya: I heard of I'm Standing on a Million Lives a while back and Yotsuya, our MC, reminds me of Naofumi from The Rising of the Shield Hero. He doesn't seem like the good and nice guy rather he's more of a solo player than a team oriented person. However, after seeing those log points, he saves them and seem to have gotten closer to Shindou and Kusue. It seems like an interesting plot since there is a class change system which is cool at least for Yotsuya since he won't have to be stuck as a farmer! The show has a nice mix of comedy and action, sometimes his group reminds me of the Kazuma crew from Konosuba! I'm looking forward to their adventures together, and the truth behind the world they are in.
---
Yume: Another show that's not really psychological or thriller is Tonikaku Kawaii. Is a romcom and is such a wholesome and cute Anime! Is funny, especially how the plot is setup. Usually these types of romcom we spend like seasons just watching them get together and start dating, but this Anime we jump straight in marriage. For me, each time seeing Nasa blushed or get embarrassed knowing he has such a wonderful wife, is just cute. ❤
Summary: Tonikaku Kawaii is also by the same creator as Hayate the Combat Butler! A story about a newlywed and love at first sight, how romantic.
---
Aiya: It is a unique romance, isn't it! I'm glad Nasa decided chase after her and even accepted a marriage proposal. Nasa surprised me when he managed to go after her despite getting into a car accident and with his legs broken as well. Guess that is the power of love~ By the way, how does she know where to find Nasa after those few years? I'm quite curious about her background.
Are you excited for Yashahime, Yume? It's been so long! I can't wait to see the new generation, and hopefully we get to see more of the old crew again.
---
Yume: Inuyasha was the first Anime I fell in love with and is like my childhood crush. I am excited to see how their children are and what kind of adventure we will get. Watching ep 1 was nostalgic, and I am happy they continue you off where the last season left off where Inuyasha and Kagome got together in the feudal era.
---
Aiya: Right?! I can't wait to see how the story goes, and same for many other shows. What anime are you guys enjoying right now? Let us know in the comments below. Thank you for reading our conversation!
Click here for Part 2