Love Live! is back with their third anime after the very successful anime for μ's and Aqours. This time it's about Nijigasaki High School's school idol appreciation club!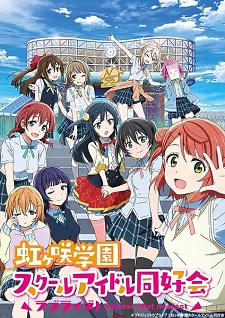 This episode starts out with Ayumu and Yuu, two childhood friends who attend Nijigasaki.
While shopping around one day, the two of them stumble upon an outdoor concert help by the Nijigasaki School Idol Club. However, only one person (Setsuna Yuki) ended up performing.
Yuu and Ayumu were both blown away by Setsuna's powerful performance. There, Yuu and Ayumu decided that they wanted to join the Nijigasaki School Idol Club.
However, the next day, they went to go find the club, only to watch their student council president declare that the club has been disbanded.
What will happen to the Nijigasaki School Idol Club now and what will Ayumu and Yuu do? Time to watch episode 2 to find out!
Thoughts:
Nijigasaki High is huge. Like airport huge. I never imagined that Nijigasaki would be that big. It's even bigger than Uranohoshi and Otonokizaka combines my goodness. Anyways, this episode was super good. They showed every single Nijigaku member + Nana (no spoilers on who Nana is!). I wonder if we are going to meet Shioriko though. I look forward to seeing how their story would develop! (I also wonder if it's going to follow the Nijigaku story from Love Live! All Stars…. hmmmm)