Do you like vocaloids like Hatsune Miku? How about having them in a game? If you do then, that's great! You have something to look forward to this year!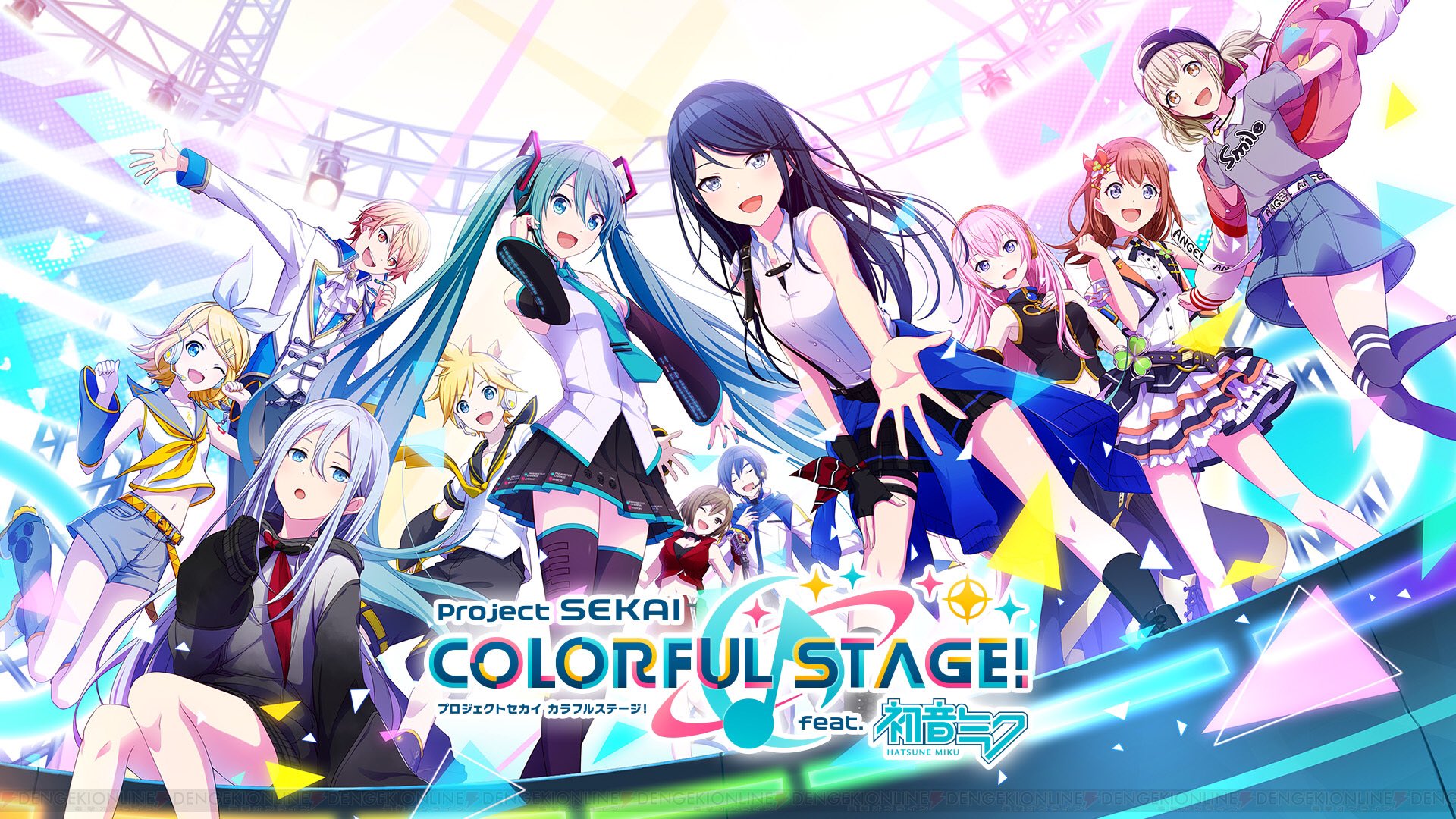 This is Project Sekai: Colorful Stage!
It includes bands and vocaloids! The bands featured in Project Sekai will be covering vocaloid songs! Many popular songs like Roki and Happy Synthesizer cover samples have already been uploaded online so please check those out! (I'll be putting th links after every band!)
Plot of the game:
This game starts with Ichika, who is walking on the street and notices Miku on a screen. When she gets home, she sees an untitled song. When she opens it and sings it, she gets teleported into another world. In that world, Miku is there and welcomes Ichika to "Sekai".
Bands:
There are 20 (non-virtual singer) characters in this game. They are split into 5 different bands (4 members each). Each band has one or more virtual singer (vocaloid, but in Project Sekai they are called virtual singers) as their advisor.
Leo/need
This is the band that Ichika joins. Their advisors are Miku and Luka. This band is composed of 4 childhood friends who now have a very strained relationship with each other.
MORE MORE JUMP!
MORE MORE JUMP! is an idol group. Their advisors are Miku and Rin. This unlikely group has Minori who has always dreamed of being an idol, however, the other members of this group had all quit being idols.
Vivid BAD SQUAD
These four are street musicians! Their advisors are Miku, Len, and Meiko. Their story starts with Kohane who bumped into An and her fellow musicians and Kohane starts dreaming about becoming a street musician herself.
Wonderlands x Showtime
They are a musical show unit! Their advisors are Miku and Kaito. Their story when Tsukasa gets hired part-time at an amusement park, however the stage he got assigned to attracts no guests at all. He then meets Emu, who wishes to restore that stage to its former glory.
25-ji, Night Chord de.
This unit is an underground music circle. Their advisor is Miku. This circle was created by Kanade. They do not know each other's appearances or real names. Also, they communicate with each other through a voice chat app called "Night Chord". However, one day, Kanade loses contact with one of the circle members.
Gameplay:
Project Sekai is a rhythm game! The player will be able to travel back and forth between the real workd and Sekai by using the "Untitled" song.
Players can also choose between the vocaloid or the Project Sekai unit versions (so the covers). Some songs will also have a 3D mode, but players can always choose to just play using the 2D version. (3D version is most likely going to be very battery draining and will heat up your device a lot. I only say this because I haveexperience with the Bandori version. And man, my phone turns into a portable heater.)
You can also switch the costumes of the characters! Some costumes will have a "recolored" version, so look out for those too!
Thoughts:
I am actually very excited to play this game! Although they only feature 6 vocaloids, this game is definitely going to have a huge variety of songs to play. What I found interesting was that Miku is the advisor for all 5 units. I wonder how that works haha.
However, what really interested me was the fact that this game has both male and female characters? It's not everyday you see a rhythm game with both boys and girls in it, right? Project Sekai really took a huge leap forward with the decision to make both male and female characters. Thank you, Project Sekai developers!
Project Sekai: Colorful Stage is now up for pre-order in the App Store and Play Store, so if you're interested you should pre-register and help us with our pre-registration milestones! Please note that this game is currently only available in the Japanese app store/play store. For those who have a Google Play account, you may download it off QooApp. For those who are IOS users, you might need to create a Japanese iTunes account. I hope that they'll make a worldwide server for this game though!
This game is coming out in September!