I love melodramas and anything that is sad enough to make me cry. Needless to say, the anime listed below have all made me cry so hard. I love them so much, and they've made such a lasting impression on me. Here we go!
Violet Evergarden
Violet Evergarden is about Violet, an ex-soldier, who lost her superior. However, before her superior died, he told her that he loved her. But Violet didn't know what that meant. So the anime follows Violet on her journey to discover emotion and the meaning behind "I love you".
Do not spoil the plot of Violet Evergarden if you've read the light novel! I'm hoping the anime will animate the entire light novel series because it contains very important plot points, hehehe.
This anime is so good. It really tugs on your heartstrings and will make you fall in love with their characters. Episode 10 (specifically) will get me to cry no matter how many times I watch it. I remember first watching episode 10 when it first came out, and I cried so hard… I love that episode though, it elicits so much emotion, just like the rest of the anime. Maybe you can rediscover love while watching Violet find the meaning of love!
Your Lie in April (Shigatsu wa Kimi no Uso)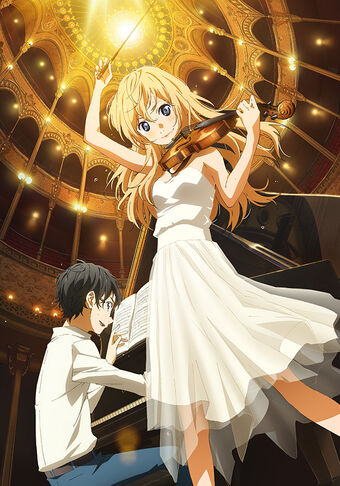 Ah yes, the classic.
Your Lie In April, is no doubt a very sad anime. (Don't spoil it though! Some people might not have watched it yet!)
Your Lie in April follows a pianist, who can no longer play the piano, and a violinist, who does anything she can to bring the pianist back into music. However, things may not last forever.
I read the mange for YLIA and I got the book all wet because of my tears. The anime made me cry even more because of the sounds they add into it. I haven't rewatched it yet, because I know for sure that I will cry again. But YLIA is amazing, and definitely should be on the "must watch" list for those who haven't watched it yet!
Into the Forest of Fireflies' Light (Hotarubi no Mori e)
Hotarubi no Mori e follows a girl on summer vacation! She goes to a shrine and meets a boy, and here their love story begins. However, there is one rule that they must obey – to never touch each other. So as their relationship grows, both Gin and Hotaru will have their resolve put to the test to obey the rule.
I watched this many years ago after my friend recommended it to me. It was so cute and fluffy throughout the entire anime, Gin and Hotaru were super cute! But man, where is my happy ending?
Angel Beats
I've listed Angel Beats under anime that deserve a second season for the very same reason why I cried haha
Angel Beats is about the afterlife, and how each of the characters have something that they need to fulfill in order to move on. It's funny and interesting, but once you get to the ending, oh man…
It's always the ending that gets me. Always.
Orange
I did not watch the anime for this. I only read the manga. But Orange is so good. I love it so much.
This series is about a girl who receives letters from her future self. Those letters tell her to prevent her biggest regret. So this story will follow her and her friends as they try to prevent the same event from happening ever again.
I really have to reread this one again. I loved it so much when I first read it. It has intense moments as well as super cute ones. This hidden gem is definitely worth a try!
Thoughts:
All these anime are. SO. GOOD. If you haven't tried some of them, I definitely recommend that you do! Alright that's all from me on this post! See you again soon! Remember to stay safe!