Another Bushiroad project?!
Well not exactly. AASide is the project name for another BanG Dream project. However, instead of girl bands, it's…
Boy bands!
Before anybody starts pouncing on me, no, this project will be in a separate universe than the girl bands. Therefore, the girls and boys will never interact with each other. However, the bands do seem to have the same concepts, which I will be talking about later in this post!
First off,
Argonavis (the Popipa of AASide)
Argonavis was the first band to be announced to be part of this Bandori project. They're a group of 5 college students, all from different majors. They're pretty much the main band in the project, with side bands that will be mentioned next!
They're a pretty standard band, with a vocalist, a bassist, a guitarist, a drummer, and a keyboardist. (pointing this out bc the other bands have variations to their setup)
Gyroaxia (Afterglow of AASide)
Gyroaxia was the second group to be announced, their style is more rock and metal(?). Their music is pretty intense. I believe that they're also college students (,maybe working adults too?).
This band doesn't have a keyboardist, instead has two guitarists. Which makes their guitar parts more prominent and complex. Makes their music very intense and unique.
Fantome Iris (Roselia-ish)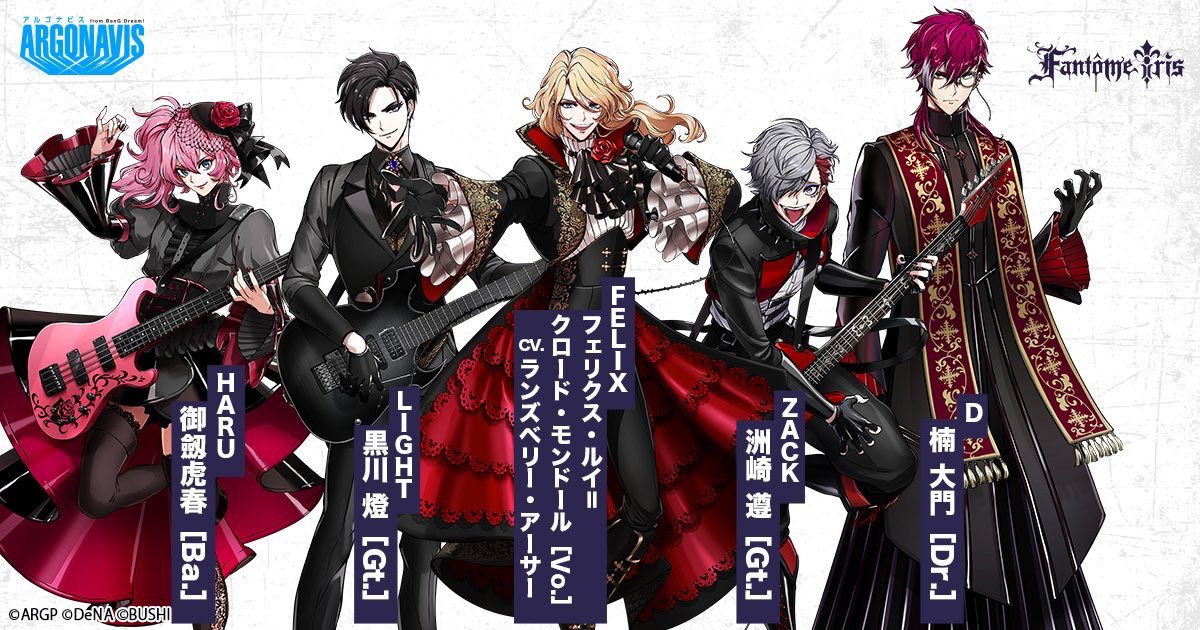 V-Vampires? Yup, this bands theme is uh. Supernatural kind of theme? I mean, all of them have a different persona onstage, and their comic strip talked about vampires. Well these are working adults, who put on a completely different mask when onstage. (Haru is male). They're completely different during their daily lives!
Two guitars, no keyboard 🙂 Very unique music style. In terms of visual, I like this band the most. Their appearances are very… striking.
Fujin Rizing (Hello Happy World for sure)
This band is very "genki" type music. Definitely gives me Hello Happy World vibes. Their smiles are very vibrant though! Makes me happy to listen to how hyped they sound in their single!
Trombone! This band definitely sets themselves apart from all the standard bands. I love how they have a trombone instead of a keyboard! Really makes their music different!
Epsilon Phi (Raise A Suilen)
Out of all the new singles, Epsilon Phi's single is definitely my favorite. It really fits the type of music I enjoy listening to. However, the band members all need to see a therapist. Their backstory involves a lot of aggression and obsession. Makes them stand out a lot, yeah, but I just think they need a therapy session. Or ten.
This band is pretty standard. just instead of a keyboard it's a synthesizer. And the vocalist is a middle schooler who enjoys seeing others in pain *cough the drummer cough* Their song is good, their band chemistry is not so good…
Listen to their singles above and let me know which one you like the most~
I look forward to seeing how these bands would grow. Definitely want to see them perform live though! I hope all the bands are real bands!!
(the only two real bands as of now is Argonavis and Gyroaxia)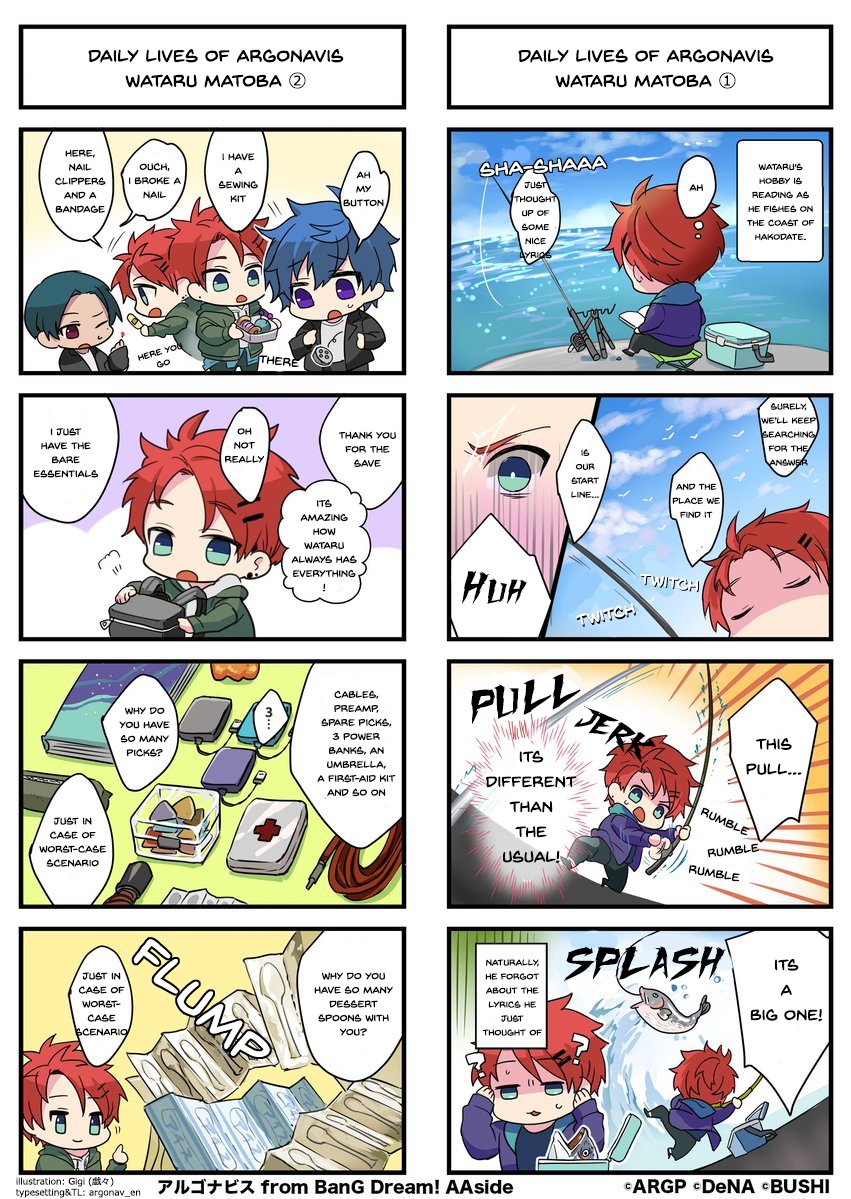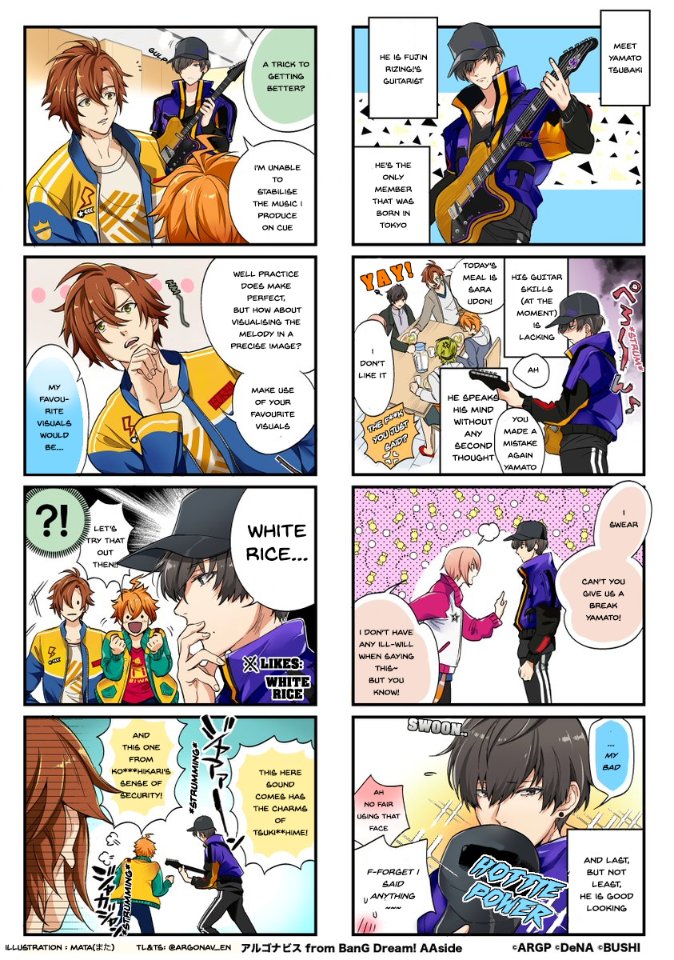 Here are some cute AASide comics to help clear your mind!