BanG Dream Girls Band Party is one of the most popular idol rhythm games in Japan, and it's growing in the Western communities too. Are you interested in playing? Even if you answer no, you can still give this game a try 🙂
There are 5 bands that the game centers around (not including Raise A Suilen because they weren't added at the time this post was written). Poppin' Party is a band formed by 5 close friends who wishes to shine together. Afterglow is a band of 5 childhood friends who want to make unforgettable memories together. Pastel Palettes is band formed by a talent agency, in other words, an idol band. Roselia is a band of professional members who works hard towards their goal. Finally, Hello Happy World is a band of classmates who wants the entire world to smile.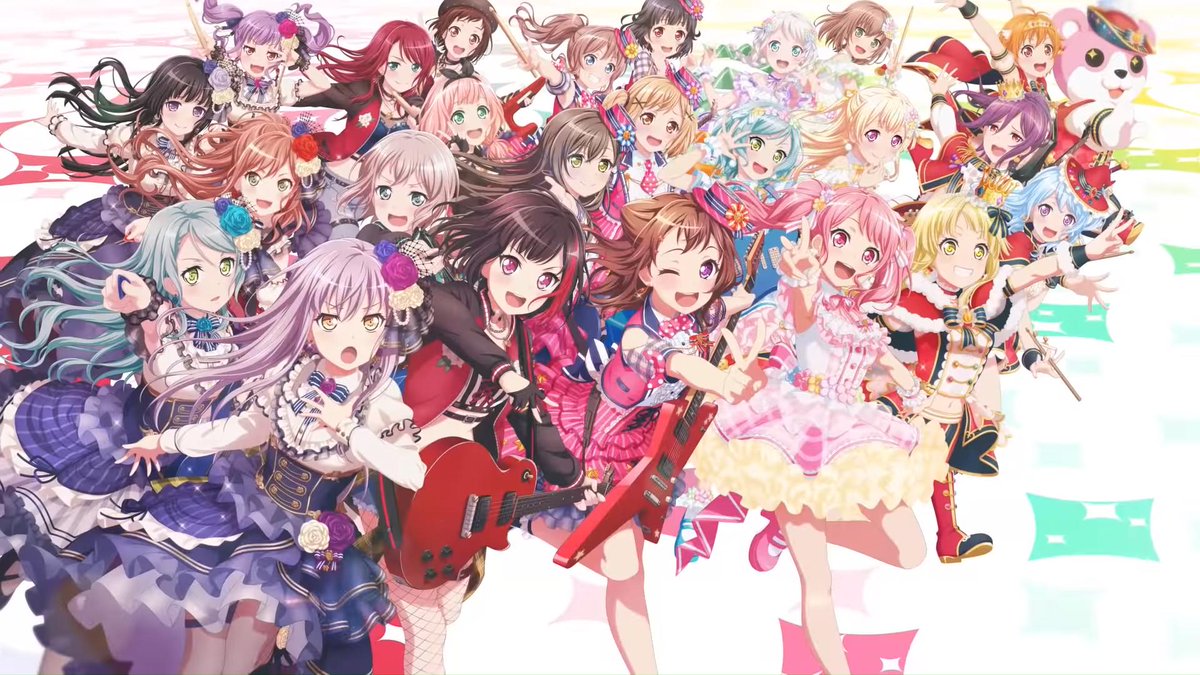 Now for the game settings. Bandori is a rhythm game, however, the game gives players complete flexibility on their own customization. The game features several formats that you can alter to mix up your live stage. You can also choose between different tap sounds and stage colors. Is the speed a bit too fast for you? No worries! You can adjust the speed to your liking too!
In addition to having a very flexible game play, there is also a huge variety of songs to select from. From original songs from the bands or covers that the band did, you can choose them all! Cover songs include Silhouette from Naruto, Sugar Song to Bitter Step from Blood Blockade Battlefront, and even more!
The events in the games have different modes to collect points. There are currently 5 different types of events, the newest one was just introduced in the latest 3-part Roselia event (so I don't know much about it bc I haven't logged onto my jp account in a while). But the other modes are pretty self explanatory. Such as, VS Live (score match), collecting points, clearing missions, seems pretty easy right? Imagine that but competing against a whole server of people to tier. Good luck with that hahah!
Opinion:
This game is very fun bc of the variety. From different girls to different cards, this game includes a lot of different factors that makes each account unique. I, personally, find it really nice that they have x2 gacha sometimes to help improve the 4-star drop rate, and limited members that have special skills that makes them better than regular 4-stars. The songs are super good and the covers are all unique. This game just keeps me expecting more good things from every band.
Bandori is also very easy to adapt to. The controls are pretty easy to understand, and the difficulty levels of each song can be adapted to. It is very fun to play new songs (esp the ones with higher difficulty level).
Bandori does take up a good amount of space on devices, but I think it's definitely worth it!
If you need clarification or have a question on anything, let me know below and I'll do my best to answer them!
This game is worth a shot! You should definitely try it out!
2/28/2020 update:
a new band called Morfonica has been revealed! More information will be coming. Only visual, names, and descriptions have been revealed.
Their first single "Daylight" is pretty noteworthy. And if anybody is familiar with Amanesu, she voices Mashiro, the vocalist of Morfonica! That is pretty awesome because Amanesu is only 15 years old!
3/7/2020 update:
All voice actresses for Morfonica has been revealed! I can't believe they managed to get Ayasa (violinist) to voice Rui! A warm welcome to the 4th real band to the Bandori family!
Raise A Suilen and Morfonica are scheduled to be added into the game after GBP's 3rd anniversary!
Side note:
please remember to take care of yourself! if you're feeling sick, please take utmost precautions and avoid getting others sick! please go see a doctor if you're not feeling well 😦